Coaching Agile Transitions
(ICP-CAT)
Leadership Tribe – A trusted advisor and counselor to many of the world's most influential businesses and institutions.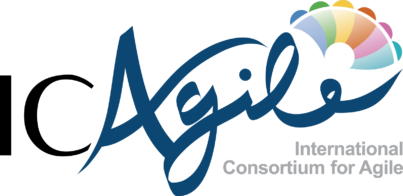 About the Course
The Coaching Agile Transitions (ICP-CAT) course enables you to pursue professional mastery of enterprise coaching for agility. It empowers you to build highly effective enterprise coaching competencies and large group facilitation skills to assist agile transitions at an organisational level.
Course Conduct and Schedule
The ICP- CAT virtual program contains two parts, with a few days pause in between. This allows participants time to process, reflect, practice the new learning, and raise questions, and helps to maximize the learning outcome. The CAT remote learning consists of four sessions (4 hours per session), as per the ICAgile guidance and advice.
Gain proficiency in Enterprise Agile Coaching, and skilfully apply professional coaching, mentoring, and facilitating
Develop a tailored and intentional process that engages the whole system and instils Agile values and mind-set throughout
Recognise and address organisational impediments effectively across strategic, structural, cultural and educational dimensions
Acquire insights, models and techniques to help people work through the changes in themselves that Agile instigates
Apply a variety of approaches to create an organisational change strategy suiting different organisational settings
Design, construct and facilitate large groups and people at the executive level within an enterprise context
Shareable Certificate
Earn a Certificate upon completion
Flexible Schedule
Set and maintain flexible deadlines.
100% online courses
Start instantly and learn remotely.
Beginner Level
There are no conditional prerequisites for this training program.
Approx. 24 hours to complete
Estimated 4 hours/day for 4 sessions, or 8 hours/day for 2 full days (fast track)
English
Program is taught in English
Additional Features
Access to Enterprise Agile Coach global alumni and monthly drop-in clinics as a platform to continue learning and sharing post-class.
Book as part of the Enterprise Agile Coach Bootcamp, and select the Agility in the Enterprise (ICP-ENT) course to build your full training plan for Enterprise Agile coaching and receive preferential pricing
Skills You Will Gain
Enterprise Coaching Skills
Agile Coach Role & Mindset
Self Mastery
Agile Coaching Skills
Professional Coaching Skills
Coaching Conversation
Coaching Models and Practices
Coaching Stance
Business Agility
Agile Team Culture
Human Change Processes
Working with Organisation impediments
Facilitating for Organisational Change
Overcoming Team Dysfunctions
Handling Organisational Impediments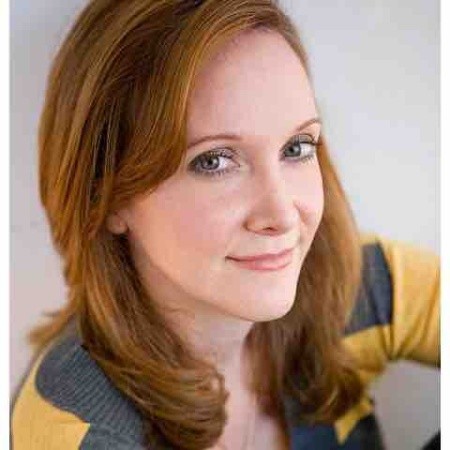 "Insightful, informative and fun. Recommending to others in my agile group. "— Carrie C. Scrum Master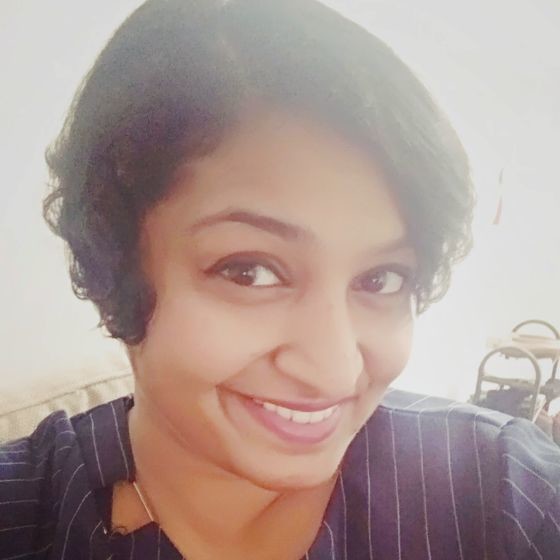 "LT helped to transform our thinking and enabled a smooth agile process for our department"— Sreeja D. Agile Audit Coach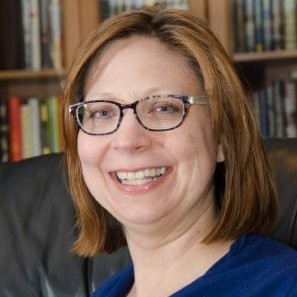 "
Training is transformational – something you can take and apply immediately to your organization
."
— Kirsten B. Senior Project Manager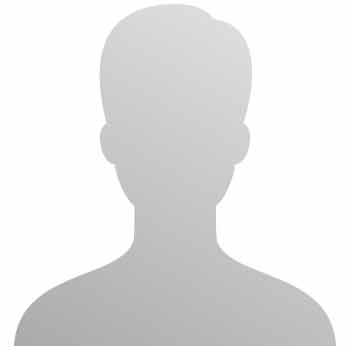 "I enjoyed all sessions, Very interactive and great learning experience. Trainer is very detailed, specific and honest. He brought topics to life with real world examples."
— Krishna S. Director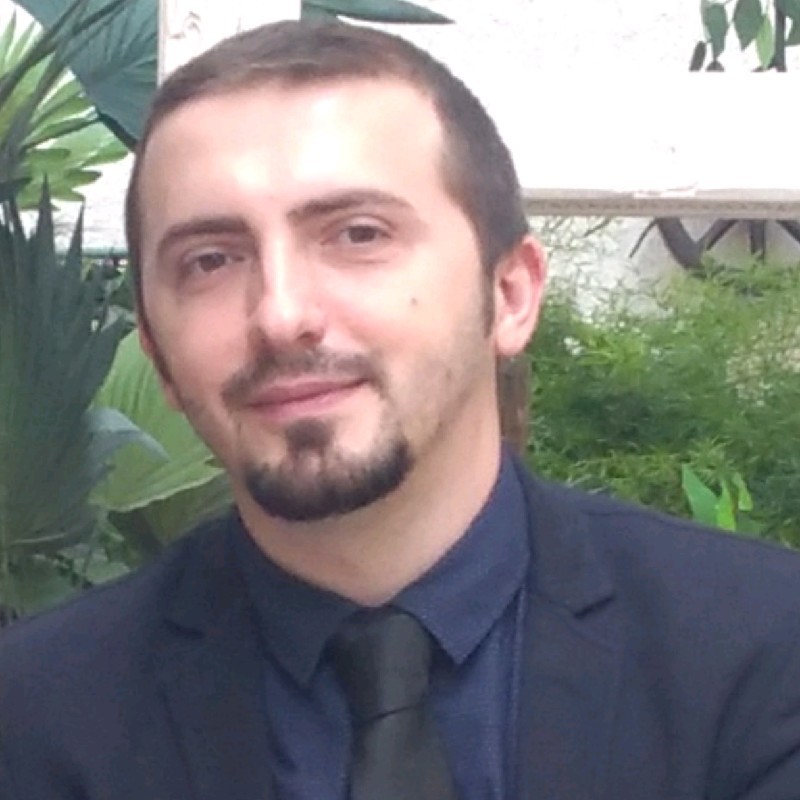 "The best value for money choice you could make to enhance your career and elevate your abilities."
— Claudiu G. Director
Coaching Agile Transition
This course is an intensive and transformative experience that will uplift your Enterprise Agile Coaching skills and results to new levels.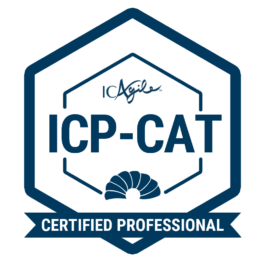 4 Days | 4 hours/day
The virtual CAT course provides you with a highly immersive learning experience. It focuses on the field of Enterprise Coaching for Agility, explores the key elements of agile transformation, and links the core enterprise coaching competencies in a way that empowers coaches to act as agents of change in organisations. It provides a systemic coaching approach to agility by engaging people in the whole process and expands your skills in executive coaching and agile transformation as well as accelerating your understanding of organisational development and change implementation.
Over the duration of the class, participants will introduced to generating alignment, innovation, and agreement with large groups of people with varying opinions. You will learn how to identify and overcome resistance in a systematic way, as well as gain new tools and techniques for coaching large groups in the context of enterprise-wide change.

Our Virtual classes are broadcasted live by an ICAgile accredited course instructor. Attendees will be able to interact with other classmates and their instructor using chat, audio or video. Edit relevant documents together live, the debate about learning topics and share their questions and thoughts at the click of a button. It's much more like a physical classroom, but without the hassle of travel.
Self-Paced Learning Option
Become part of the Alumni group
Shareable on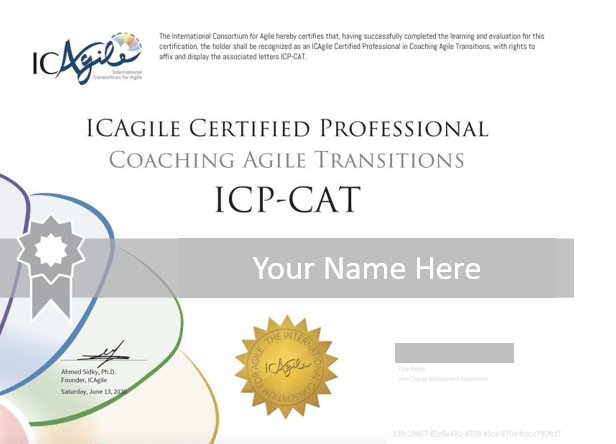 You can share your Course Certificates in the Certifications section of your LinkedIn profile, on printed resumes, CVs, or other documents.
Frequently Asked Questions
What is the refund policy?
If you subscribed, you get a 7-day free trial during which you can cancel at no penalty. After that, we don't give refunds, but you can cancel your subscription at any time. See our full refund policy.
Can I just enroll in a single course?
Yes! To get started, click the course card that interests you and enroll. You can enroll and complete the course to earn a shareable certificate, or you can audit it to view the course materials for free. When you subscribe to a course that is part of a Specialization, you're automatically subscribed to the full Specialization. Visit your learner dashboard to track your progress.
Can I use a payment plan?
Yes, Coursera provides financial aid to learners who cannot afford the fee. Apply for it by clicking on the Financial Aid link beneath the "Enroll" button on the left. You'll be prompted to complete an application and will be notified if you are approved. You'll need to complete this step for each course in the Specialization, including the Capstone Project. Learn more.
Can I take the course without certification?
When you enroll in the course, you get access to all of the courses in the Specialization, and you earn a certificate when you complete the work. If you only want to read and view the course content, you can audit the course for free. If you cannot afford the fee, you can apply for financial aid.
Is this course really 100% online? Do I need to attend any classes in person?
This course is completely online, so there's no need to show up to a classroom in person. You can access your lectures, readings and assignments anytime and anywhere via the web or your mobile device.
I completed the Digital Product Management Specialization, what do I have to do to finish the Agile Development Specialization?
The Digital Product Management Specialization is a superset of the Agile specialization- you've already earned it.
Can I earn Product Management Institute (PMI) professional development units (PDUs)?
You may earn Project Management Institute (PMI) professional development units (PDUs) and Contact Hours for completing courses in the specialization. To do so, log in to PMI to access your account and submit a report.
What will I be able to do upon completing the Specialization?
At the end of the specialization, you'll be able to:
Explain how key agile methods fit into best current practices across software engineering, general business, and product design; and how those matter for your particular project
Apply product design best practices to your project through user stories, prototypes, and narrative collaboration
Focus your work on outcomes (vs. output) with hypothesis-driven development
Introduce agile practices to your team & customers on an incremental, success basis
Integrate your activities across development, QA, and operations
Conduct phase-appropriate usability testing
Do I need to take the courses in a specific order?
We suggest you take the courses in the order presented to get maximum benefit from the materials.
Can I download materials to share with my colleagues?
All course materials are for your personal use while participating in this course. You are not allowed to share or distribute them in any form; however, they are available for licensing. If you're interested, please contact
[email protected]
​How we can help your business  moving forward?