Agile coaching is a relatively new role that has emerged in response to the popularity of Agile ways of working. Agile coaches help teams transition to and operate within an agile framework such as Scrum or Kanban, providing support and guidance at every step. In this post, we'll explore what agile coaching is, what the benefits are, and how you can become an Agile coach.
What is agile coaching?
Agile coaching is a people-centric approach that focuses on developing and strengthening teams' capabilities to improve performance. Agile coaches are trained in 5 skill areas:
Agile & Lean Practices
Mentoring
Professional Coaching
Facilitation
Teaching
As Agile coaches, they facilitate team learning, provide support and guidance, help teams adjust to changes in the environment, and serve as a bridge between team members and in-between teams. They are guides who help individuals and groups navigate their transition to Agile and leverage continuous improvement in their Agile practices. In this way, they foster collaboration and focus on achieving optimal results.
The agile coach competency framework can help Team Coaches, Scrum Masters, Agile coaches assess their skills and strengths, identify areas of improvement, and focus on the most critical aspects of coaching to fulfill the needs of their clients. A good understanding of this framework can help Agile coaches build trust with teams, understand team dynamics, create a better learning environment, and, ultimately, help teams reach their goals.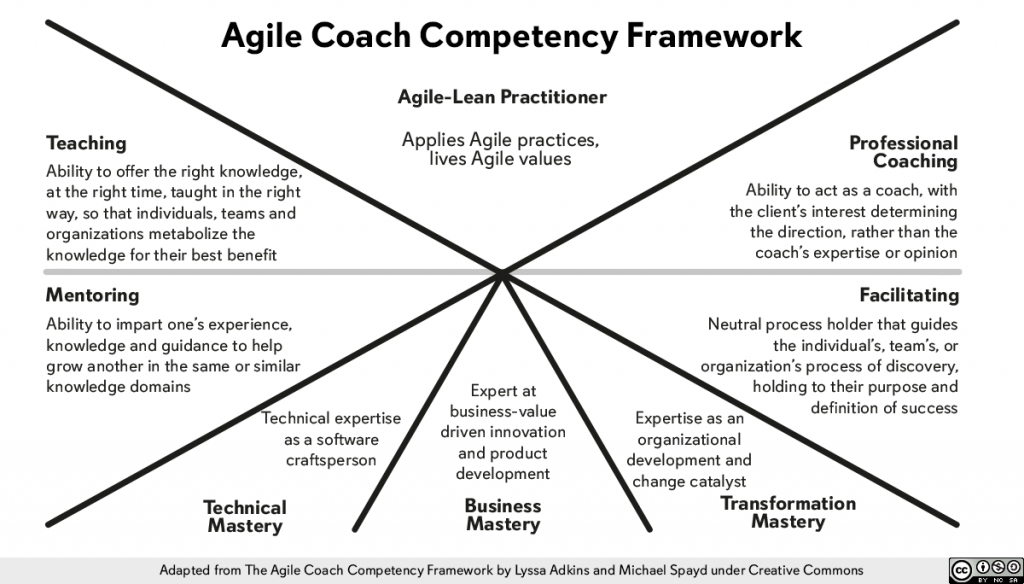 What are the benefits of agile coaching?
Having an agile coach can be incredibly beneficial for agile teams. An agile coach is knowledgeable in agile principles and processes, making them a valuable asset that can help hold agile teams, product owners, and stakeholders accountable while leveraging their knowledge to support the team's needs. By analyzing situations from a creative perspective and offering new ways of thinking, agile coaches can bring visibility to problems, help formulate solutions, and provide guidance on improving individual performances and that of the entire team or organization. Furthermore, agile coaches can recognize patterns of success that can tailor to different groups with various goals and objectives. Ultimately, coaching agile teams through their journey yields strengthened relationships, heightened morale, improved efficiency and effectiveness of processes, better strategies for collaboration, and streamlined decision-making.
Agile coaching is different from project management in that it emphasizes the team dynamics and collaboration of the group. Agile coaches focus on helping the development team to become more effective by understanding its current state, identifying areas of improvement, and providing guidance to maximize efficiency. A project manager usually focuses on completing tasks or goals within a given timeline. At the same time, an agile coach helps the team progress and improve by teaching processes and coaching individuals. Agile coaches must be experienced in communication, collaboration, and leadership and bring the Agile mindset to change initiatives. With proper coaching from an agile coach, teams can benefit from agile project management by implementing agile processes into their project management frameworks.
How do you learn agile coaching?
To become an Agile coach and develop the skills and values necessary to guide teams through their Agile adoption successfully, one should consider taking a course from an accredited institution such as ICAgile. ICAgile is an international credentialing body that provides agile coach certifications such as the ICAgile Certified Professional in Agile Coaching (ICP-ACC) and the ICAgile Certified Coaching Agile Transformations (ICP-CAT). These courses cover various topics such as effective team facilitation, coaching for high performance, working with leadership, creating learning environments, and organizational and cultural awareness. With the proper training, any aspiring Agile coach can become a successful guide to their team's journey towards Agile success.
Scrum Masters can become Agile Coaches by taking additional training such as Agile Team Coach or Enterprise Coach certifications. These certifications provide Professional Scrum Masters with the knowledge they need to understand the principles of Agile methodology and how to best implement these practices in their teams. With this additional knowledge and certification, Scrum Masters have all the skills to become effective Agile Coaches. Moreover, with continuous learning and development, they will be able to stay up-to-date with the latest best practices (such as DevOps), learn how to facilitate conversations between teams and stakeholders better, and ultimately provide the best guidance possible to their teams.
Becoming an agile coach also requires practice and dedication. A great agile coach listens to the team, understands their needs, and helps them reach their goals in the most efficient way possible. Agile coaches must be comfortable providing feedback and helping teams improve by giving meaningful advice while also being supportive of team members. Agile coaches need to be agile coaches to recognize patterns of success and failures and tailor their coaching approach to the team's needs. Additionally, agile coaches should have a wide range of tools and techniques to adjust as needed for each unique situation. With practice and dedication, anyone can become an effective agile coach and help teams achieve great results.
Levels of agile coaching
There are three different levels of Agile coaching:
Team Facilitator
A Team Facilitator is an Agile coach who works directly on the team level to help them become successful in their journey toward agility. The role of a team facilitator is to ensure that everyone understands the goals, vision, and values of the agile program, as well as help teams by providing clarity on roles and responsibilities within each project. They also play a crucial role in helping identify and address any challenges or behaviors they may encounter during their process and conducting retrospectives with the team. A team facilitator should have technical and soft skills, as they must be able to explain technical concepts while listening and understanding the team's needs. Through facilitation, a team facilitator helps teams become more cohesive and efficient.
Agile Team Coach
Agile Team Coaching requires working with teams to help them achieve agility through implementing Lean-Agile practices and agile methods. It involves assisting groups in understanding the principles behind Agile methodology, including self-organizing and high-performing teams, collaboration, and adaptation to change. An agile team coach needs to identify areas that need improvement in process, communication, and engagement of team members so that the team can maximize its efficiency. Additionally, they should be able to provide guidance, feedback, and support to the team to help them identify and reach their goals.
Enterprise Coach
An Enterprise Agile Coach is a change agent who works with organizations to help them achieve agility and guide successful transformations. They navigate by assessing the current organization and its culture, understanding agile leadership engagement, and providing strategies for implementing Agile methodologies. One pathway to becoming an Enterprise Coach is ICAgile's Certified Professional in Enterprise Coaching (ICP-ENT), which goes beyond software development and focuses on business agility as the goal. Enterprise coaches must be knowledgeable in organizational assessments, cultural awareness, and leadership engagement. To successfully help organizations, they must focus on developing and implementing systems thinking approach that meets the needs of the organization and its team members.
By understanding the different levels of Agile Coaching, teams can ensure they are working with experienced coaches and understand their specific needs.
Why Do You Need Agile Coaching?
Agile coaching is integral to any organization that wants to stay up-to-date with the changes in their field and consistently produce superior products. With an agile coach, organizations can take advantage of opportunities to streamline processes, optimize efficiency, and discover bottom-line improvements. Not having an agile coach can have serious consequences, including a lack of focus on essential details, failure to recognize gaps in productivity or operations, and laying down plans without considering the consequences of making certain decisions. Utilizing the services of an agile coach will provide valuable guidance while uncovering essential insights within an organization. An agile coach can help ensure your team has the right tools and mindset to make good decisions quickly and strategically turn consequences into opportunities.
Conclusion
Agile coaching is a process that helps organizations and individuals learn and implement the Agile methodology. Agile coaching has many benefits, including improved communication, faster delivery of value, increased transparency, and more. Leadership Tribe will help prepare you for the Scrum Alliance Certified Team Coach and Certified Enterprise Agile Coach certifications. If you're interested in learning more about agile coaching or becoming an agile coach, check out our latest courses at Agile Coach Bootcamp or read more about agile topics on our blog.
Follow us on Linkedin for latest updates.