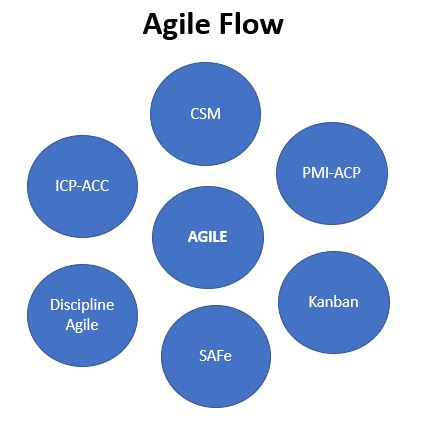 The Agile methodology has radically transformed the domain of software development and project management, and this has in turn increased the need for professionals with specialist agile knowledge and experience. A number of Agile certifications have emerged to benchmark professionals' level of competency and expertise. These agile certifications the UK help professionals or professionals aspiring to a career in the domain to keep up with the market, demonstrate specialised proficiency and prove aptitudes, provide higher visibility and credibility in the job market, and higher salary range and high rate growth in career. The knowledge and skills acquired from agile certifications the UK will help to change the mindset and perspective of people working in the industry, enhance the teamwork and warrants the improved delivery of performance.
This article suggests the top 6 Agile certifications depending on individual knowledge and experience, and Agile professionals can use this information to identify and evaluate their goals and next steps. For each certification, we will provide a brief introduction followed by its benefits, pre-requisite and the target audience.
Certified ScrumMaster® (CSM) / Certified Scrum Professional
The Certified ScrumMaster® (CSM) certification from Scrum Alliance is one of the most widely held certifications among management professionals. It explores the Scrum framework in detail, from fundamental theories to practical applications, covering Agile Scrum values, team roles, activities, and artefacts. The key knowledge and skills will enable CSMs to act as "Servant Leaders", assisting the rest of the Scrum team to work together and increase customer satisfaction with the continuous drive for value, and increase the likelihood of the project's overall success.
This qualification is suitable for practicing professional ScrumMasters, Product Owners, Development Team Members, Project Managers, Team Leaders, and anyone who is involved in a Scrum Project or setting out on their Agile journey. There are no prerequisites required for the certification.
PMI Agile Certified Practitioner® (PMI-ACP)
The Project Management Institute – Agile Certified Practitioner® (PMI-ACP) covers a broad range of agile methodologies, including Scrum, Kanban, Lean-Agile, extreme programming (XP) and test-driven development (TDD). Upon successful completion of this qualification, you will be able to demonstrate your professional knowledge of agile principles, methodologies and tools, exemplify expertise and proficiency as an agile practitioner specialist, and increase versatility in Agile technologies that warrants the team productivity and customer satisfaction.
You will find the PMI-ACP very helpful if agile practices and approaches are being adopted in your projects or organisation. It is ideal for Agile project management candidates such as Project Managers, Agile Team Members, Project Executives, Software Developers and any professional aspiring to be a Project Manager. To attain PMI-ACP certification, you need to have at least 2,000 hours of general project experience working on teams and in addition 1,500 hours working on agile project teams or with agile methodologies, as well as 21 contact hours of training in agile practices.
Kanban Management Professional (KMP)
Kanban is a management technique which enables change in a developmental transformation approach instead of an abrupt or disorganised manner. KMP illustrates Kanban values, methodologies, rollout, and daily operation of Kanban system. It is a starting point to help you understanding the most appropriate type of Kanban initiative for your organization and ways to develop it over time to improve working practices without disturbance. Kanban works across multiple functions and hierarchy levels of an organization, and helps to improve agility with asymmetrical commitment and cadences.
The KMP is a great choice for professionals who want to improve their work atmosphere. It is suitable for those who are part of a product development or knowledge work environment, such as the Product Managers, Product Owners, Business Analysts, Scrum Team Members, Product & Software Developers, and so on. KMP comprises two levels: KMP 1 and KMP 2. Whilst KMP 1 is about fundamental stages of Kanban method, KMP 2 is an intermediary for attaining advanced certificate in Kanban and explores several continuous development programs.
Scaled Agile Framework® (SAFe) 4 Agilist (SA)
The Scaled Agile Framework® (SAFe®) is a comprehensive methodology for large-scale agile project teams to execute agile transformation. The framework synchronizes the alignment, collaboration, and delivery of multiple agile teams contributing to enterprise success. Being scalable and configurable, SAFe supports implementation of small scale solutions as well as complex systems, and allows each organisation to adapt according to own business needs. With this certification, you can improve your knowledge about employing the Scaled Agile Framework, leverage SAFe® methodology to scale Lean and Agile across multiple teams, coordinate large solutions and empower Lean Portfolio, and lead the agile transformation in your organisation.
The Executives, Leaders, Directors, Portfolio Managers, Programme and Project Managers, Product Line Management and Infrastructure Management will be able to empower their enterprises to succeed in a disruptive marketplace when they become a SAFe® 4 Agilist (SA). Minimum 5 years' experience in software development, testing, business analysis, product or project management and previous experience in Scrum are recommended for those who intend to apply for the SAFe® 4 Agilist certification.
Disciplined Agile (DA) Certifications
The Disciplined Agile certifications UK are appropriate for both novices and practitioners in Agile working environment who want to learn about Disciplined Agile ways of working, gain a better understanding of how to apply agile strategies within your enterprise-class settings, such as banks, insurance companies and government agencies, to create effective working environment by adopting Disciplined Agile strategies. There are three levels of certifications for practitioners which build upon each other: (1) Beginner ("Shu") – Disciplined Agilist (DA) or a Certified Disciplined Agilist (CDA); (2) Intermediate ("Ha") – Certified Disciplined Agile Practitioner (CDAP); and (3) Expert ("Ri") – Certified Disciplined Agilist Coach (CDAC) and Certified Disciplined Agile Instructor (CDAI). The major characteristics of these certifications are illustrated below:
The Disciplined Agile (DA) certification program is a principled Agile approach based on the "Shu-Ha-Ri" philosophy of learning. The Disciplined Agile certifications UK deliver real values to practitioners – being a Disciplined Agilist indicates that you have taken the effort to "earn" it, helping you to demonstrate broad knowledge and interest on Disciplined Agile delivery, depict how all facets of agile principles and practices are in syn, in an enterprise-class environment, and this real-world experience boosts your employability and career opportunities.
ICAgile-Agile Certified Coach (ICP-ACC)
The ICAgile-Agile Certified Coach (ICP-ACC) certification is one of two knowledge-based certifications on the Agile Coaching track. It elaborates on the mind-set, skills, roles, and responsibilities of an Agile Coach introduces team coaching skills to create a safe environment for meaningful collaboration and healthy conflict resolution within an agile team, as well as team development concepts in the light of team dynamics and organisational systems. The ICP-ACC certificate helps you to advance your coaching skills and abilities, which enables you to build effective and self-organising teams, eliminate dysfunctions, constantly review and adapt, drive continuous improvement and high performance.
This Agile certifications UK can be a great choice for Agile Coaches or aspiring coaches in a business environment, those who have a passion for servant leadership and a desire to learn and practice facilitation and coaching for Agile teams. Other relevant roles such as Scrum Masters, Product Owners and Agile Project Managers may also find the certification helpful. There are no prerequisites for attending this certification, though understanding of Agile and experience in an agile team will be useful.
Agile Development Across Various Certifications
In conclusion, the article provides an overview of the top Agile certifications ranging from the basics of Agile/Scrum to advanced level of scaling at the organisational level. In recent years, rising demand for Agile professionals have been observed and an increasing level of requirement on their proficiency. Yet there is a lack of qualified professionals who are able to comprehend and materialise the true value of Agile methodology. All the certifications suggested above are effective programs providing professionals with the visibility and credibility in the field, and acting as an influential platform to exhibit one's outstanding credentials. The professionals in the area need to figure out which ones best suit their needs and help to uplift their career prospect and enthusiasm on the subject to the next level.
"The only thing that is constant is change", we all have to transform with the changes in order to ride the tide and achieve the new height in life. To do so, we need to acquire more knowledge and skills to enable the transformation, to continuously outperform ourselves as well as facilitate our teams and organisations to grow, and the appropriate Agile certification is the very first step to equip us in the journey. 
At Leadership Tribe we have many years of experience in providing well-constructed training for a number of Agile certifications facilitated by post-study support, contact us to find out how we can help you to uplift your Agile competency and make the next successful leap in your professional development with a range of training courses and certification courses such as the ones featured here.