Leadership is critical to an organisation's success. It has a direct impact on the overall efficiency and performance of the organisation, and whether or not it can achieve its strategic leadership goals. This article intends to briefly define different types of leadership roles and its common styles.
What's the difference between leadership and management?
Leadership is not about the seniority or one's position in the hierarchy of an organisation, nor a job title. The view that a few people at the top can provide all the leadership needed is absurd. Leadership is not about personal attributes or charisma, it's about behaviour. Effective leaders with good communication skills are desired from people at all levels of the hierarchy.
Most importantly, management does not equate to leadership. They are two different functions that serve distinctive purposes. Management is a set of processes through which an organisation produces products and services to its clients consistently, such as planning, structuring work, resourcing roles, measuring performance and solving problems. It is important to the operations of the business, but it is not leadership. A good leader focuses on the corporate vision (the big picture) over short-term issues. Visionary leaders need to obtain buy-in from people and empower them to deliver the changes necessary to achieve the vision.
Defining leadership
With the appreciation of what leadership is not, let's try to figure out what it is. Below are some of the views which I found relevant:
"Leadership is influence – nothing more, nothing less."
– John Maxwell
"The only definition of a leader is someone who has followers."
– Peter Drucker
"Leadership is the capacity to translate vision into reality."
– Warren Bennis
"As we look ahead into the next century, leaders will be those who empower others."
– Bill Gates
What is leadership?
I reckon leadership is all of these, and here is an attempt to define it:
Leadership is a process of social influence, which empowers people and maximises their efforts towards the achievement of a common goal.
Whilst the definition of leadership may vary from individual to individual, the key elements of leadership are evident:
Contains a vision or an intended outcome
Motivates and empowers people to deliver
Stems from social influence, not authority or power
Requires others or followers
Can have different styles and paths
What are the most common leadership styles?
Leaders have their common leadership styles, and they may exhibit different leadership approaches according to the particular scenario (situational leadership) to achieve the best results. There are quite a few studies on styles of leadership and I believe they can be broadly categorised into the following categories: autocratic, paternalistic, participative, delegative, agile and transactional.
What are the types of leadership styles that managers can use?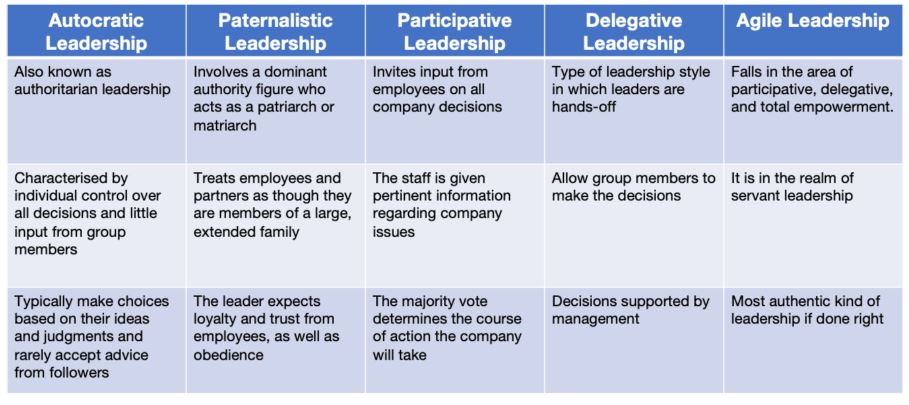 Autocratic leadership: autocratic leaders dictate policies, procedures, what's going to happen and how. Team members aren't involved in the decision-making process. It's a one way, authoritarian dialogue. An autocratic leadership style ensures complete control by the leader with micromanagement and little or no autonomy for workers. They are often charismatic leaders and hold all the power.
Paternalistic leadership: also known as parental leadership, this style of leader treats the team like a family. The leader is the decision-maker, the authority figure and the definite head of the organisation. This style of leadership engenders trust and loyalty from the group members. The paternalistic business leader encourages developing new skills and for employees to work towards the good of the company.
Participative leadership: this style of leadership is inclusive whereby team members are invited to participate in decision-making processes. It's a more democratic leadership style with all voices being heard and encouraged to share views. These democratic leaders tend to have higher emotional intelligence and a consideration of employees' wellbeing.
Delegative leadership: this is a hands-off or laissez-faire leader who trusts their team members to do their job with minimal interference. Laissez-faire leadership can be an effective leader strategy with experienced, competent teams who certainly don't require micromanagement.
Agile leadership: this type of leader focuses on adaptiveness, pacesetting and removing obstacles to change. They encourage collaboration between team members, commitment from individuals and need effective communication skills. It's similar to transformational leadership as the focus is on being dynamic, adaptable, self-motivated and facilitating change. They're likely to be a coaching leader as well as transformational leader with that agile mindset.
Transactional leadership: the transactional leader believes in motivation and provides incentives. This rewards-based style of leadership involves clear goals being set and efficient processes to follow. There's a sense of give and take – the employee gives strong performance and takes a reward for achieving a business goal.
The different leadership styles vary significantly in terms of leadership authority, decision-making processes and employee empowerment, from self-serving to serving others. The chart below captures the key characteristics of each different type of leadership style:
Servant leadership: Among all the types of leadership styles, servant leadership is regarded as the most authentic style of leadership. A servant leader listens to different opinions and perspectives, supporting employees to unlock their potentials, promoting collaboration and trust in the workplace, and improving innovation and overall performance. It encourages team members to be self-motivated, participating rather than simply following instructions (autocratic leadership). Servant leadership is an important leadership skill set that does not only help us to build better organisations, but also enable us to become better selves and build better communities surrounding us.
In summary, leadership has a great influence on an organisation's success or downfall. Good leaders motivate and empower employees to create innovative solutions and achieve the organisation's strategic goals. Leaders can adopt different leadership styles and it is advised that servant leadership can enable them to improve organisation performance.